WEL- COME TO GRAP FIRE INDUSTRIES
We feel proud to introduce our self as a Group of industries, we are in Engineering manufacturing product industries since 1998. We are one of the leading manufacturer of ISI marked Fire Fighting Equipments in the Indian market under the brand name of GRAP FIRE We got our first BIS license in Pune Maharashtra. As Grap fire Industries is the ISO 9001 : 2008 certified by TUV and CE Mark Approval.
We have always focused on new product development and product performance improvement, researches and produce a series of fire fighting products with excellent properties and reliable quality; which assisted us to acquire the market in no time. we have been able to team up well qualified and people, Which mark the existence and growth of any organization. We have a network of well settled and flourished dealers all over the country which helps us to market our product to the remote areas and has always helped us to have goodwill in the market.

FACTORY AND INFRASTRUCTURE
Grap Fire Industries total manufacturing and warehousing facility and is located in Pimpri, MIDC, Pune Near Tata Motor. It consists of all the necessary plant and machinery required for manufacturing Fire Extinguishers from Deep Drawing stage to complete assembly of Fire Extinguisher. The factory is also equipped to carry out Performance Test and Fire Test of various fire extinguishers and fixed systems manufactured. It also consists of a Laboratory equipped with all necessary test equipments and is operated by highly qualified Quality Controll Staff.
GROUPS OF COMPNAY
Grap Fire Industries , Pune
Amay Raj Press Comps pvt. Ltd.
Shantai Milk & Milk Product Pvt. Ltd.
Globle Technologist
Raj Amay Industries
OUR TEAM INCLUDES
Engineers
Quality Controll
R&D Personnel
Administration Team
Sales, Marketing Executives
After Sales Support Team
Material Team
Skilled & Semi- Skilled Operators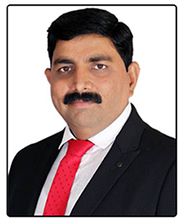 Mr. Gajanan Charpe.
Managing Director Group Of Companies
OUR MISSION
Our Mission is to expand and continually improve utilizing quality practices and employee involvement to manufacture Fire Fighting products. We maintain a superior level of integrity in interactions with business partners and associates. We appreciate our achieved success and we conduct our business as model corporate citizens.

OUR VISION
Our Vision is simply to be " THE COUNTRY'S PREMIER FIRE FIGHTING EQUIPMENT MANUFACTURER COMPANY." Being the premier company does not mean being the biggest but it does mean being the best in terms of consumer value, customer service, employee talent, and consistent & predictable growth.